Saturday, October 28, 2006
Mexico, October 28th: Oaxaca.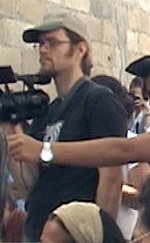 Murdered
Murdering
Journalist murdered by Mexican government
Brad Will, 36, a documentary filmmaker and reporter for Indymedia in New York, Bolivia and Brazil, died today of a gunshot to the chest when pro-government attackers opened fire on a barricade in the neighborhood of Santa Lucia del Camino, on the outskirts of Oaxaca, Mexico. He died with his video camera in his hands.
A teacher Emilio Alonso Fabian
was also murdered
, as was
Esteban Lopez Zurita
and the APPO protestors reported that 20 of their members were wounded. Two were reported to have been kidnapped. (See also
La Jornada
, which has more details. An AP report in the Washington Post
uncritically accepts the claim
that both sides fired shots. Remarkably, only protestors get shot.
Comments:
Wow. Foul-mouthed troll comment #2 of the day is now zapped.
The Calderon fans all seem to think that maledicta beats logic and fact. They spend their time dropping F-bombs instead of even attempting to make a decent case for their guy. That alone would be a big hint to me that Charles is right and they are wrong.
Post a Comment
<< Home
More blogs about politics.